The 2021-2022 academic year was filled with accomplishments, and had its share of challenges. Our faculty, staff, and students continued to find new ways to connect with each other, despite the ongoing pandemic. We connected with others around the world for brown bag talks and round-table discussions. Our international area and global studies centers and thematic programs continued their teaching, research, and outreach to those in our community and beyond. When we look back at these highlights from this past year, we are proud of the work we did to bring people together and further the mission of the Illinois Global Institute.
We thank you for your support, and we look forward to engaging with you in the coming academic year.
Kasia Szremski selected for LAS Academic Professional Award
Kasia Szremski, associate director for Center for Latin American & Caribbean Studies, was selected by the College of Liberal Arts & Sciences awards committee for the LAS Academic Professional Award. The award, along with the other staff awards, were presented by Venetria K. Patton, the Harry E. Preble Dean of the College of LAS, at the awards ceremony held in March.
Frederick Lamb selected for 2021 APS Five Sigma Physicist Award
The Program in Arms Control & Domestic and International Security faculty member and physics professor Frederick Lamb received the 2021 Five Sigma Physicist Award of the American Physical Society's (APS) Government Affairs team. Lamb was one of 10 society members honored by the APS for their science-policy advocacy efforts throughout the past year.
Promotion and matriculation for WGGP's Anita Kaiser
Women and Gender in a Global Perspective (WGGP) program is proud to share that Anita Kaiser was promoted to associate director of WGGP. Anita has worked at the University of Illinois since 1998, joining WGGP in 2005. She is responsible for the programming activities of the unit and oversees the graduate minor in Gender Relations in International Development. In the Spring of 2020, she completed her graduate studies at the University of Illinois Springfield, receiving a master's of business administration.
Asian American Education Initiative
The Asian American Education Initiative is co-organized by the College of Education and the Center for East Asian and Pacific Studies at the University of Illinois, co-sponsored by the New American Welcome Center and the Asian American Culture Center. The mission of the Asian American Education Initiative is to promote social justice in education by bringing Asian American literature to classrooms and increasing the visibility of Asian American history in the curriculum at schools in the Urbana-Champaign area.
Grant helps launch Midwest Transitional Justice Network
As part of the chancellor's Call to Address Racism and Social Injustice, IGI received funding for its project "Blueprint for Transitional Justice in the US: Building on Lessons and Insights from Global Perspectives." The first step in this initiative was the creation of the Transitional Justice Speaker Series, which hosted a different speaker each month of the academic year.
'Living Music' Middle East Film Series strikes a chord
Center for South Asian & Middle Eastern Studies (CSAMES) hosted the film series, "Living Music" which featured documentaries on the daily lives of musicians and the impact of music on society in the region. The series comprised of the following: "Umm Kulthum: A Voice Like Egypt" (1996); "Sonita" (2005), about a young Afghan refugee in Iran who expresses her experiences through her rap music; "We Loved Each Other So Much" (2003), on the Lebanese singer Fairuz and her impact on people in Beirut; "Trances" (1981), about the band Nass El Ghiwane and their creation of Moroccan music; "Heavy Metal in Baghdad" (2007), featuring the life of a band just following the U.S.-led invasion of Iraq; and "No Land's Song" (2014), which centers on the organization of a concert featuring female solo performers in Iran. The films were screened online via Zoom and were followed by discussions led by expert guests. Attendees included students, faculty, staff, and community members who were enthralled by historical aspects of the musicians' lives as well as the power of music as self-expression in the region. The series was supported by funding from the U.S. Department of Education Undergraduate International Studies and Foreign Languages program grant.
EUC launches its 'SMAART' initiative
On April 22 (Earth Day), the European Union Center (EUC) organized a symposium on the future of technology, energy, and security in Europe, with a focus on nuclear energy. The symposium marked the start of a new three-year initiative, "Sustainable Methods for Adapting & Adopting Regional Technologies" (SMAART), to identify best practices to encourage democratic interaction and adoption of new technologies among marginalized communities, urban and rural. By focusing on the European Green Deal and its policy and comparable initiatives by the U.S. federal government, SMAART aims at increasing the interest and collaboration between American and European scholars on questions of inequality, accessibility, and sustainability.

An interdisciplinary group of UIUC faculty members will support the SMAART project, which will include speaker and lecture series, courses, public events, and outreach initiatives. Funding for the project comes from a Jean Monnet Center of Excellence grant from the European Commission's Erasmus+ program, which was awarded to the European Union Center this spring.
IGI creates series on Global Responsiblities
With a critical eye on global conflict and events, Illinois Global Institute (IGI) created a new speaker series that is expected to continue past the current academic year. The Series on Global Responsibilities started with the first series of events focused on Russia's War on Ukraine.

"Russia's War on Ukraine: An IGI Series on Global Responsibilities" features multi-disciplinary events on the Russian invasion of and the ongoing war in Ukraine. The series is hosted and sponsored by IGI, its area and global studies centers and thematic programs, and academic and research partners across campus, along with support from the Office of the Chancellor and the Office of the Provost. These events included speakers and discussions, as well as musical tributes to Ukraine.
The International Studies Research Lab adapted and grew
The 2022 International Studies Research Lab (ISRL) attracted a record-breaking pool of applicants with its new hybrid format. The lab aims to help faculty and staff at community colleges internationalize their institutions, which is a continually important task in our interconnected world. The ISRL's focus on community colleges provides a unique opportunity to faculty, staff, librarians, and administrators at these institutions that they might not otherwise be exposed to. Armed with the excellent resources and dedicated faculty at University of Illinois Champaign-Urbana's International and Area Studies Library, participants of the lab can work to develop global studies curricula and instruction in less commonly taught languages, expand library collections, or establish international education programs at their home institutions. This year, the lab will host 17 participants from 14 institutions across the country. Participants will work on projects that range from revitalizing global studies programs at home institutions to examining the effects of the war in Ukraine on domestic politics in Poland and Hungary.
The Center for East Asian and Pacific Studies, in partnership with the Urbana Free Library, presented East Asian Story Time, a monthly family event series celebrating cultural and language diversity in the Urbana-Champaign community. Each bilingual story time event featured a story read in English and Chinese, Japanese, or Korean to spark children's interest in East Asian languages and cultures.
Alumnus Terrell Jermaine Starr visits campus
On April 19, 2022, the Russian, East European, and Eurasian Center (REEEC) sponsored a Q&A session with war correspondent and U of I alum Terrell Jermaine Starr at the Campus Instructional Facility. Starr, an independent journalist based in Kyiv, has been covering the Russian assault on Ukraine since the beginning of the conflict. His first-person reporting has been featured on cable news outlets, and he maintains an active Twitter presence (@terrelljstarr) while covering the war.

In 2009, he earned master's degrees in Russian, East European, and Eurasian Studies (REEES) and in journalism from the University of Illinois Urbana-Champaign.

During his time on campus, Starr was a guest on The 21st Show, a production of Illinois Public Media. His WILL interview is linked below.
India studies lecture returns with talk on Indian Empress Nur Jahan
In collaboration with the Department of Landscape Architecture, the Center for South Asian & Middle Eastern Studies (CSAMES) hosted Ruby Lal, acclaimed historian of India and Professor of South Asian Studies at Emory University India Studies Fund, for her visit to campus and lecture at Temple Buell Hall on March 22. The title of her talk was "The Small Things of History: Archive for Nur Jahan, the Great Mughal". During her talk Professor Lal interrogated the status of the "archive" in history through the life of Nur Jahan, the only woman ruler in the long dynasty of India's great Mughals. This lecture was supported by the India Studies Fund, which is the result of an initiative by a number of University of Illinois faculty from the campus's diverse colleges and disciplines. Since its establishment in 2003, the Indian Studies lecture series brings to campus distinguished scholars, artists, and activists.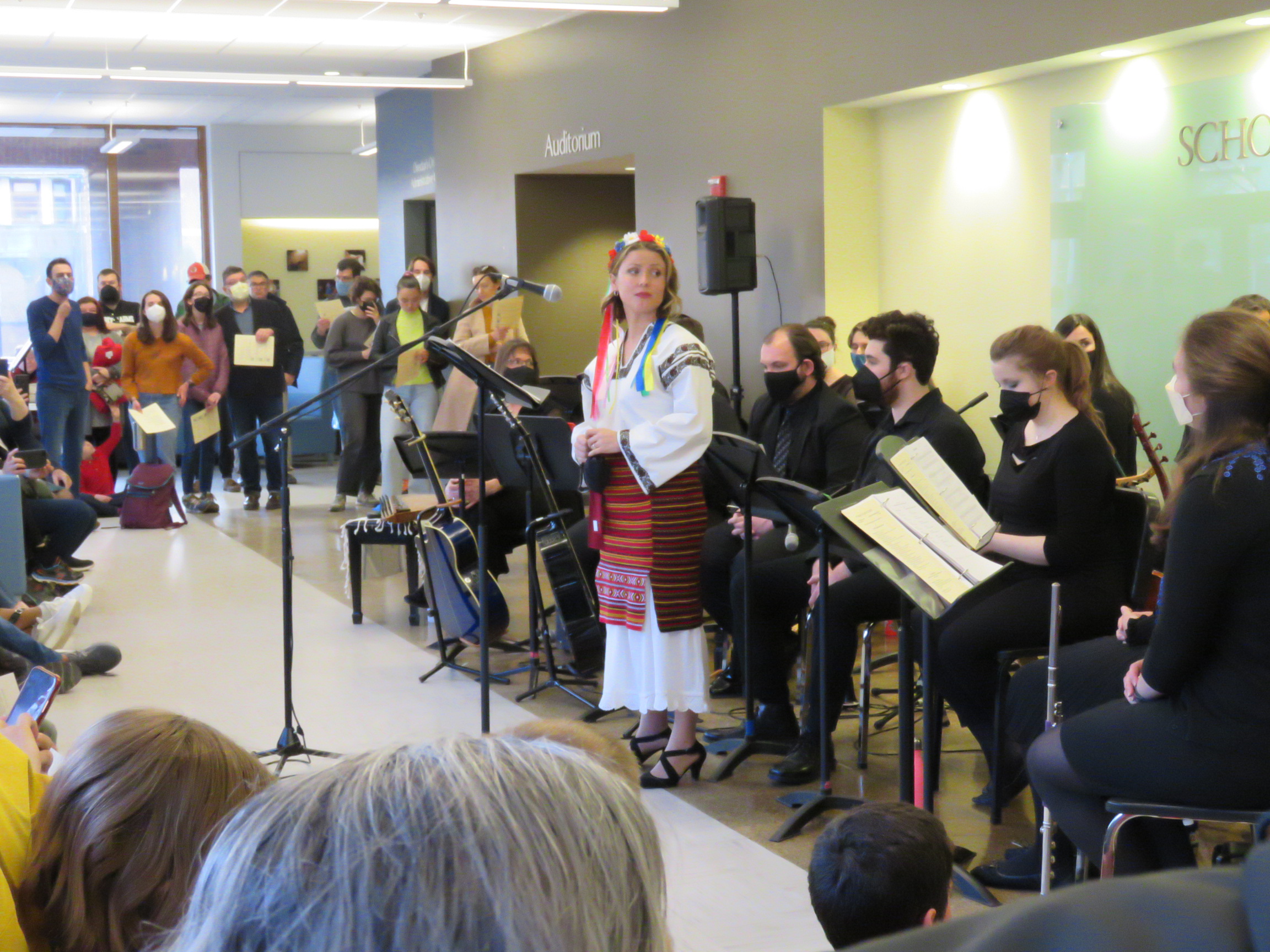 'For Ukraine: An Artistic Tribute' hosted by REEEC and School of Music
On Tuesday, April 26, 2022, the Russian, East European, and Eurasian Center and the School of Music hosted the event "For Ukraine: An Artistic Tribute." This event showcased several performances and exhibits across campus related to the arts, culture, and music of Ukraine.

Featuring exhibits at the Spurlock Museum of World Cultures and the Music and Performing Arts Library, attendees were able to view an array of items from Ukraine, including folk instruments, cultural items, textiles, and more. Several musical performances were also presented by the Altgeld Chimes, Balkanalia, and the University of Illinois Hip-Hop Collective.
Conversation with Afghan scholar-activists hosted by WGGP
In the wake of the US-backed return of the Taliban to power in Afghanistan and disturbing scenes of people risking their lives to flee the country at the airport in Kabul, WGGP hosted a conversation with three Afghan scholar-activist women to share with a thirsty US-based audience their historicized and gendered analyses of what the mainstream media does not share. The invited panelists included Lima Ahmad, Tuft University; Musaka Dastageer (American University of Beirut) and Halima Kazem (UC Santa Cruz). Prompting an anti-imperial feminist historical perspective that recognizes how interlocking patriarchy and global capital greed have systematically produced this moment in Afghanistan, the panelists were asked to speak to the role of gender in colonial endeavors that justify occupations and invasions; the role of Afghan women as heroes and victims; and the important work that the activists and local organizations are doing on the ground. This online event drew students and faculty from across campus as well as community members beyond the university and state of Illinois.
EUC organizes high school translation competition
In fall 2021, the European Union Center organized a translation competition for Illinois high school students. The competition featured five less commonly taught languages (Greek, Hebrew, Italian, Polish, and Swedish) and consisted of translating a moderately challenging and previously untranslated text from one of the five languages into English. UIUC faculty and graduate students chose the texts, which represented a range of genres, from a Swedish-language newspaper article on ski resorts during Covid-19 to an excerpt from a short story by the Polish writer Marek Nowakowski.

Thirty-five students from 23 schools participated. The winners and honorable mentions were celebrated at an award ceremony hosted by the Consulate General of Italy and the Italian Cultural Center in Chicago in November 2021. Italian Consul General Thomas Botzios, Italian Cultural Institute Director Luca Di Vito, and European Union Center Director Emanuel Rota presided over the ceremony, which also included a few guests who joined via Zoom.
CGS Presents 'Education for Revolutionary Non-Violence' as part of Transitional Justice Series
As part of the 2021-2022 Blueprint for Transitional Justice in the US: Building on Lessons and Insights from Global Perspectives Series presented by the Illinois Global Institute, CGS hosted Dr. Hakim Williams of Gettysburg College, who kicked off the spring semester by giving a talk about education for revolutionary non-violence. In his talk he covered topics including neocoloniality, hyperconsumerism, global warming, racialized polarization, forced displacement, and the Covid-19 pandemic, asking how much more can our planet and its inhabitants endure? He called on the audience to recognize that violence in its many forms undergirds much of what ails our planet and its global citizens, and that the path we are on is unsustainable. The planet and our very survival require the enactment of a revolutionary, justice-oriented non-violence. In his talk, Dr. Williams outlined the kind of education required to envision and foster such a healing non-violence. The full video and transcription can be found on CGS' website linked below.